Why do we Search for Chametz?
Question submitted to

"

Ask the Rabbi

" by:
Name: Anonymous
City: Minneapolis, MN
Full Question:
"I am looking the reasons why we search for Hametz in our home before Pesach, and what are the reasons we do those rituals?
Thank you for your Help."
Rabbi Tully Bryks responds:
The prohibition of Chametz (unleavened bread) on Pesach is not limited to eating it. We are also not allowed to own any Chametz or benefit from it in any way during Pesach.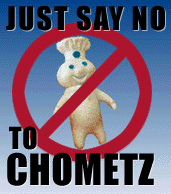 So to this end, we are required to search our house for Chametz the night before Pesach. We are only required to search rooms where Chametz might be found, so bathrooms in most homes would be exempt. Since a proper search of the whole house usually requires more than one night, it is advisable to start cleaning and searching many days, or even weeks, ahead of time. The climax of that cleaning effort would then take place on the night before Pesach. A Bracha (blessing) is recited and the search begins.
There is a rule that we are not allowed to recite a Bracha in vain, as it contains G-d's name. So what if someone cleaned their house really well in advance, recited the Bracha at the proper time on the night before Pesach and then could not find any more Chametz? In such a case, they would have said G-d's name in vain. To avoid this issue, we place 10 pieces of bread around the house before the search begins. As a result, even if someone did not succeed in finding any more Chametz, they would still "find" the 10 pieces of bread and the Bracha would not be in vain.
It is important that a person does not get mixed up and focus their search on the 10 pieces of bread and not on any hidden Chametz that might have been missed in the earlier cleaning effort. Contrary to what some might think, the main goal is to find unknown Chametz, while the 10 pieces of bread are only there as a precaution.
Wishing you and your family a Chag Kasher and Chametz-free Pesach!
Share with and Inspire your Friends