How can we Understand the Commandment to Wipe Out Amalek?
Question submitted to

"

Ask the Rabbi

" by:
Name: Isaac
City: New York
Age: Teenager
School: Chaim Berlin
Full Question:
"Isaiah Berlin – a philosopher – said that the greatest danger to the world is when people impose their beliefs on others. ISIS is a perfect example of this as they kill many people because they believe that that's what Allah wants. So, my question is, what about Milchemes Amalek? Wasn't that genocide? The Jews attempted to do it (in thew days of Shaul) because the Torah says so. But isn't that imposing beliefs on others? What's the difference between that and what ISIS is doing??"
Rabbi Tully Bryks responds:
Everyone is entitled to their own beliefs. As Jews, we are among a minority of religions who do not proselytize or impose our religion on others. At the same time, we believe that our understanding of truth is correct just as other people from other religions believe that they are right (See my article on the Chosen Nation). But even though we believe that we are right, and by extension, that others are wrong, we do not impose our beliefs on others, unless their beliefs put us or others in danger. If they say that I, my country, or anyone different from them does not have a right to exist, we are going to object (Just as I'm sure Amelek would object to our approach to them). But ISIS goes way beyond that. Their belief that they are morally justified when they torture, rape and brutalize those who oppose them, is not a belief that is based on clear scriptures. On the contrary, the majority of Muslims believe that ISIS has hijacked their religion and is merely justifying, rationalizing and masking their quest for power in religion. But as you have pointed out, the Torah (Bible) is quite clear that there is an obligation to wipe out the nation of Amalek (although certainly not to torture, rape or brutalize anyone – ever!).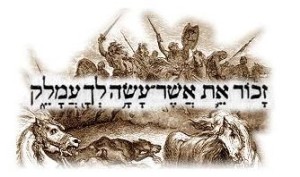 The next question is why would G-d put a commandment to kill others in the Torah? It seems so inconsistent with most of the laws of the Torah, including the laws that prohibit murder, theft, hatred, gossip and the many laws that command love of others, tolerance, kindness and the like. According to Jewish law, we are even required to be sensitive to the suffering of animals! So how could it be that this same benevolent G-d, who treats all people as His children, and expects us to nurture each other and the world He gave us, would actually require us to kill someone???
The truth is, most people agree that there are times when killing is allowed, or even required, but they just disagree on where to draw the line. For example, if someone is coming to kill others (referred to as a "Rodef"), and the only way to stop him is with deadly force, then G-d doesn't just allow us to take action, He commands us to stop this person, even if it entails killing him. This law applies even if the Rodef is acting unintentionally. Examples could include someone losing control of his car or a baby threatening the life of its mother. In the wake of 9-11, The U.S. policy to shoot down hijacked commercial aircraft that are being used as missiles. Perhaps Judaism would support such an approach, even though most of the people on board the planes are innocent.
Now what if you could go back in time and had the opportunity to kill baby Hitler and prevent the Holocaust, or kill baby Osama Bin Laden and prevent 9-11 and perhaps many more terrorist attacks? Would that be justified? While many would argue yes, the Torah generally does not condone judging someone based on what they will do in the future (and G-d knows the future). For example, Yishmael (Ishmael) and his descendants would eventually commit terrible atrocities against the Jews and the world. Yet when Yishmael was sick and on the verge of death, G-d heeded his prayer and saved him, and did not consider the future misdeeds.
The one exception to this rule is Amalek. G-d understands that Amalek represents pure evil in this world. Their mandate is to wipe out the Jewish people and any connection to G-d and morality from this world. They have tried this numerous times, from the original Amalek to the nation that attacked the Jews when we left Egypt, to Haman's attempt at genocide in the Purim story to Hitler himself, who many consider to have been "Amalek" as well. Knowing who they are, what they represent and the certainty of their wickedness, G-d has commanded us to wipe them out. Like all other Mitzvos from G-d, this commandment is considered so important that Shaul Hamelech (King Saul) was penalized and dethroned by G-d due to his failure to follow through on it.
Admittedly, this type of commandment goes against the very nature of who we are. But perhaps that is precisely what makes our people so great. Unlike ISIS, who seem to genuinely enjoy the pain and suffering they inflict upon others, which seems to further confirm that this more about who they really are, and not about some Divine crusade, we struggle with a commandment like this and reluctantly follow it only because it is a direct commandment from the Torah. We allow G-d to define morality for us and not the other way around. Once a person acts as their own judge a jury of morality, then they sort of become their own G-d, whereby anything can eventually be rationalized. By deferring to an external and objective source, especially from an all-knowing, all-loving and morally perfect G-d, we have the capacity to truly achieve moral and personal greatness. The humbling challenge is that we may not always understand every precept.
May we reach a time soon when there is no more bloodshed, no more torture, no more suicide bombings, and a time of everlasting peace and prosperity for everyone!
Share with and Inspire your Friends