When was the Binding of Yitzchak (Isaac)?
Question submitted to

"

Ask the Rabbi

" by:
Name: Lee
City: Lafayette, LA
Age: 57
Profession: Computers
Full Question:
"Is there an understanding of the calendar date that Abraham went with Isaac for the sacrifice of Isaac?
I was wondering if it corresponded to the date of the Exodus from Egypt, but can find nothing in Scripture?"
Rabbi Tully Bryks responds: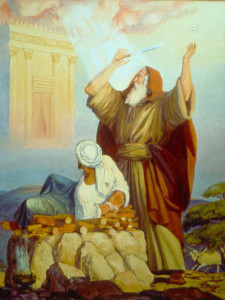 Akeidas Yitzchak (the binding of Isaac) took place in the year 1676 BCE. The Exodus from Egypt and the subsequent National Revelation at mount Sinai took place over 300 years later in the year 1313 BCE.
As you may know, Avraham (Abraham) faced 10 major Divinely ordained tests and he successfully passed them all. According to most authorities, the test of being commanded to sacrifice his own beloved son, was the most difficult of all of the tests. The test, however, is called "Akeidas Yitzchak." Perhaps one explanation is that this test was a test of Yitzchak (Isaac) as well, as he was already 37 years old at the time. And according to the Medrash (insights from the Oral Torah), when Avraham was preparing to tie Yitchak to the alter, Yitzchak asked his father to make sure to secure the ropes tightly, as he did not want to inadvertently flinch and potentially blemish the sacrifice.
Share with and Inspire your Friends